What Are Dental Implants?
Despite improvements in dental care, millions of Americans suffer tooth loss -- mostly due to tooth decay, gum disease, or injury. For many years, the only treatment options available for people with missing teeth were bridges and dentures. But, today, dental implants are available
Dental implants are replacement tooth roots. Implants provide a strong foundation for fixed (permanent) or removable replacement teeth that are made to match your natural teeth.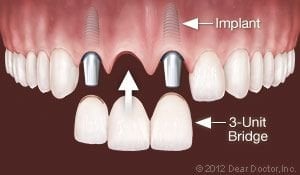 Replace Multiple Teeth — When you have more than one tooth missing, implants provide an ideal replacement mechanism. You don't even need one implant for every missing tooth. Instead, implant teeth can act as supports for fixed bridgework. For example, if you are missing three teeth in a row, we can place two implants, one on either side of the gap, and a crown in between that has no implant underneath. That way, you won't need to use any of your remaining natural teeth as bridge supports, which could weaken them and make them more susceptible to decay.

What Are the Advantages of Dental Implants?
There are many advantages to dental implants, including:
Improved appearance.
Improved speech.
Improved comfort.
Improved self-esteem.
Improved oral health.
Durability.
Convenience.
Easier Eating
Who Can Get Dental Implants?
Only patients who have generally good dental health can get dental implants. Viable bone tissue is needed to ensure that the implants will stay rooted. That's why it's important to see a dentist for a tooth implant as early as possible. In some cases, a bone grafting procedure can help improve a patient's chances of having a dental implant integrate successfully.

How Long Will Dental Implants Last?
For patients of a certain age, a dental implant has a good chance of lasting for a lifetime. The crown part of the implant can last for up to 15 years before it may need to be replaced. Seeing your dentist at least two times every year for professional cleanings and becoming meticulous about at-home dental care will ensure that the implant (and your other teeth) stays strong and healthy.
Do you need Dental Implants?nCall Grayslake Dental Care in Lincolnshire, IL at (847) 223-2023 for more information!
Before
After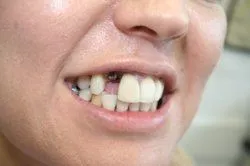 Before
After